Explore the Lake Erie Islands in style this summer aboard the PowerPlay Yacht Charters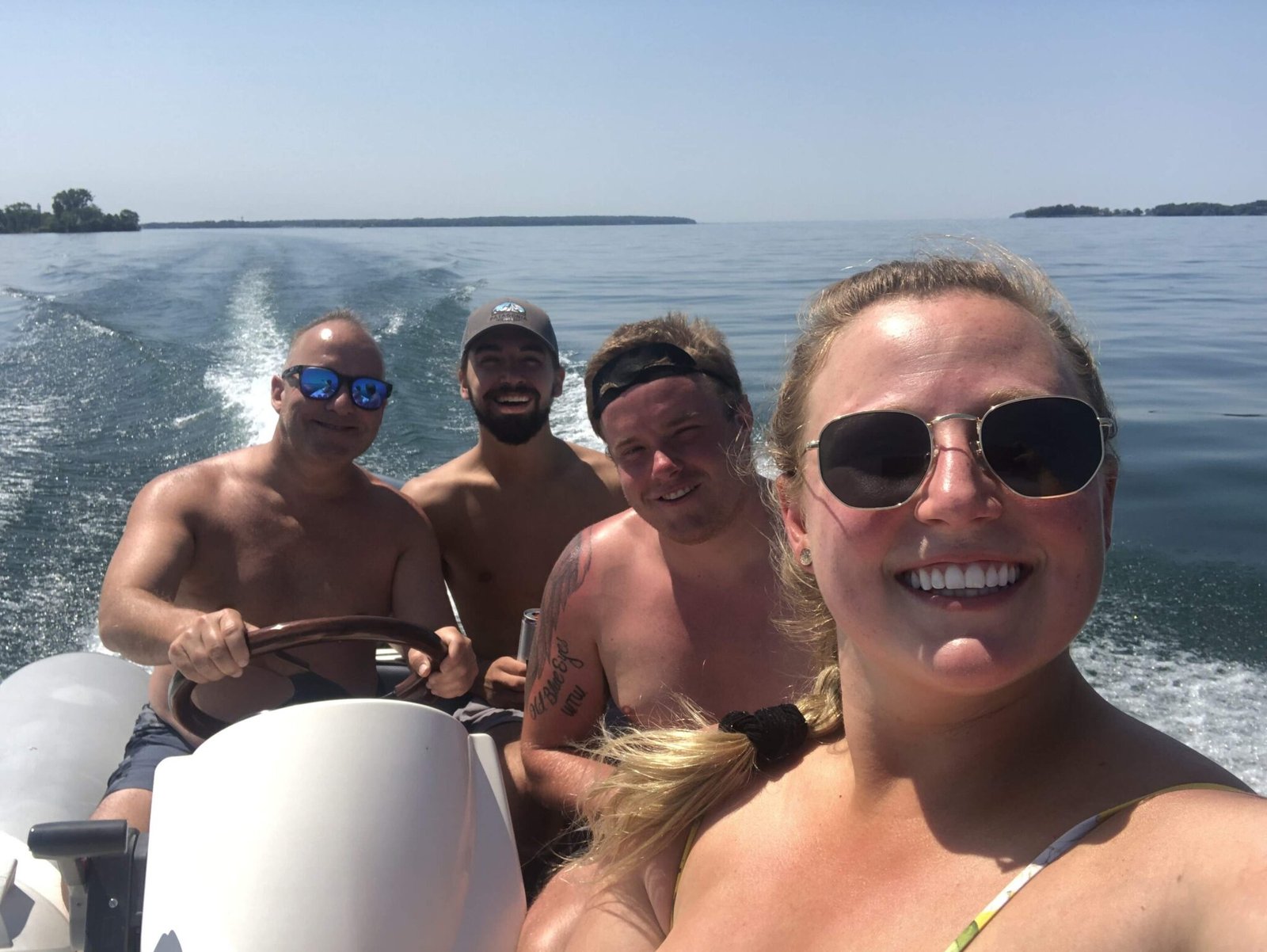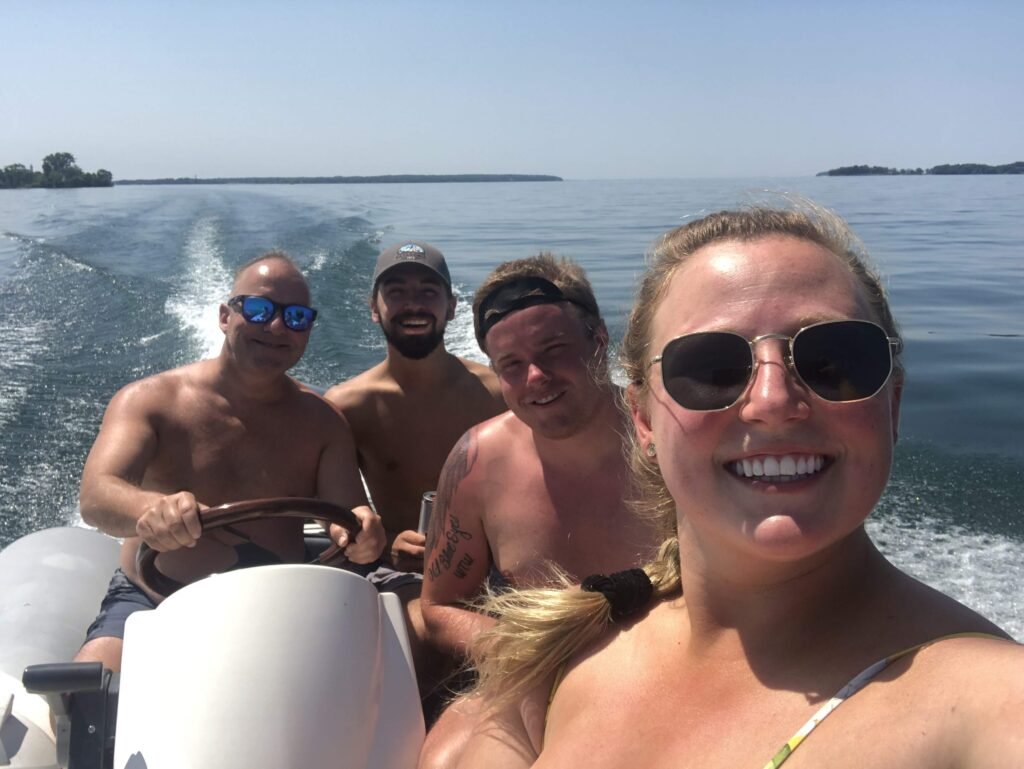 Captain Jim Navigates a New Career with Lake Erie Yacht Charter Business
A seasoned business veteran, Jim Dempsey saw an opportunity to leave the corporate rat race behind and become his own boss while making people happy on the water.
An avid boater for many years, this was an inviting prospect after holding several high-level innovation and product development positions throughout his career. So Jim set out to become a U.S. Coast Guard licensed master captain, gaining the required on-water hours, in-class training and testing with the U.S. Maritime Academy. Part of the comprehensive training included CPR and AED (Automated External Defibrillator) certification.
Then he purchased his second boat, a 55-foot Sundancer Sport Yacht weighing over 50,000 pounds, docked in Sandusky (Ohio) Bay. One joy ride for family and friends led to another, and Powerplay Yacht Charters was officially born in the summer of 2019.
Jim's dream was coming true. Captain Jim was charting a new career.
"I realized there was a great business opportunity for me to share my yacht while celebrating other's life events," he says.
With the country hopefully moving toward a post-pandemic era, Captain Jim's goal is to run his yacht charters up to six days a week throughout the 2021 season, which runs from mid-April thru the end of October. Check booking schedule for availability. He knows people are ready to get out of the house and enjoy some sun and fun after the yearlong grind of the COVID-19 lockdown.
"For many of my customers, this may be their only opportunity to enjoy Lake Erie on a luxury yacht, so I make sure they have the best experience possible," Captain Jim says. "I enjoy seeing people be happy and get extra satisfaction out of offering a fun experience on the water."
Jim developed a love for boating and the water as a youngster while fishing with his family on an Indian reservation along the St. Lawrence Seaway in upstate New York. Their Indian guide, Tom Jacobs, would refer him as "The Admiral" for ordering people to "sit down!' in the small johnboat so it wouldn't tip over. 
In 1998, Jim helped his brother Tom find his first boat, a 22-foot Checkmate Convincor go-fast, and later Jim purchased his first Sea Ray, a 33-foot twin gas engine Sundancer cruiser in 2001. He's been hooked on boating ever since.
Once Jim gained his USCG master captain license, he put it to good use working for MarineMax Port Clinton as delivery captain. At MarineMax,  he delivered new Azimuts, Galeons, SailFish and Sea Rays to excited customers while training them on new systems and safe operation. The highlight of Jim's time at MarineMax was flying to New York City to pick up a new Galeon yacht, then traveling six days through the Erie and Welland Canals to Port Clinton. Jim has also captained for private owners and their vessels.
The majority of Jim's business career involved innovation and new product development roles with likes of Fortune Brands and their brands Moen (fashion fixture company), Master Lock and ThermaTru Doors. He owns 15 patents, most of which involve plumbing fixtures, and he recently filed for another patent for an anti-viral yoga mat.
Jim led research and development for Purell hand sanitizers, soaps, wipes and surface disinfectants, so he's well versed in the field of antimicrobials and disinfection technologies. In addition to yacht chartering, Jim runs his own consulting business focusing on technology, engineering, product development, and antimicrobial solutions — Ingenuity Engine, LLC.
Jim is ready to chart a new career course, one yacht charter at a time. Join him on PowerPlay and let the fun begin!
PowerPlay is a 2005 Sea Ray 500 Sundancer Sport Yacht and one of the largest private yachts running along the Lake Erie Islands. She is 55 feet in length with a 15 feet, 6 inch beam, and weighs more than 50,000 pounds. The PowerPlay cruises effortlessly on the Lake Erie waters, powered by twin Cummins QSM-11 diesel engines rated at 660hp each for a total of 1,320hp wave-crushing power.
On the stern is an oversize hydraulic swim platform which can lower and launch our Zodiac Deluxe Dinghy into the water for guest fun. The dinghy accommodates four and is available for rental at an additional cost while on your yacht cruise. The hydraulic swim platform also makes a great teak beach at anchor.
PowerPlay Yacht Charters cruises up to six passengers. Its home port is Son Rise Marina on Sandusky Bay, Ohio, just across from Cedar Point. Our cruise destinations include Put-in-Bay on South Bass Island, Kellys Island, Middle Bass Island, Catawba Island, Cedar Point, Sandusky Bay and Cleveland's North Coast Harbor (see related story on our destinations.)
The Sundancer Sport Yacht handles rough water comfortably with a wave-slicing deep-V hull. She has a spacious, air-conditioned cockpit with plenty of seating, a well-appointed cabin, a comfortable padded area for sunning on the bow, a large open space on top for gathering, and two luxury restrooms.
PowerPlay is equipped with two refrigerators, a freezer, an electric stovetop, and a microwave. The boat is Bluetooth-connected and includes SiriusXM wired to a JL Audio sound system. Passengers are invited to bring their own playlists on board to jam. Don't want to miss the big game? PowerPlay has satellite DirecTV that plays on four TVs. A full electronics complement of Raymarine GPS, chart-plotter, radar, autopilot, and VHF radio helps keep guests and crew safe during journeys.
How did PowerPlay get her name? Well, Captain Jim and most of the crew are hockey players who are still playing today in the Hockey North America League in Cleveland.
During the summer of 2021, PowerPlay Yacht Charters is running one to two Lake Erie cruises a day, up to six days a week. Check out our packages and pricing here. Custom packages are also available to meet your needs.
For more information, contact Captain Jim at 216-338-7618 or contact@powerplayyachtcharters.com.
Type of Yacht: SeaRay 500 Sundancer
Length: 55 feet
Width: 15 feet, 6 inches
Weight: 50,000 pounds
Engines: Cummins QSM11 Diesels
Home port: Son Rise Marina on Sandusky Bay
Pick up points: Sandusky Bay, Put-in-Bay, Kellys Island, Cleveland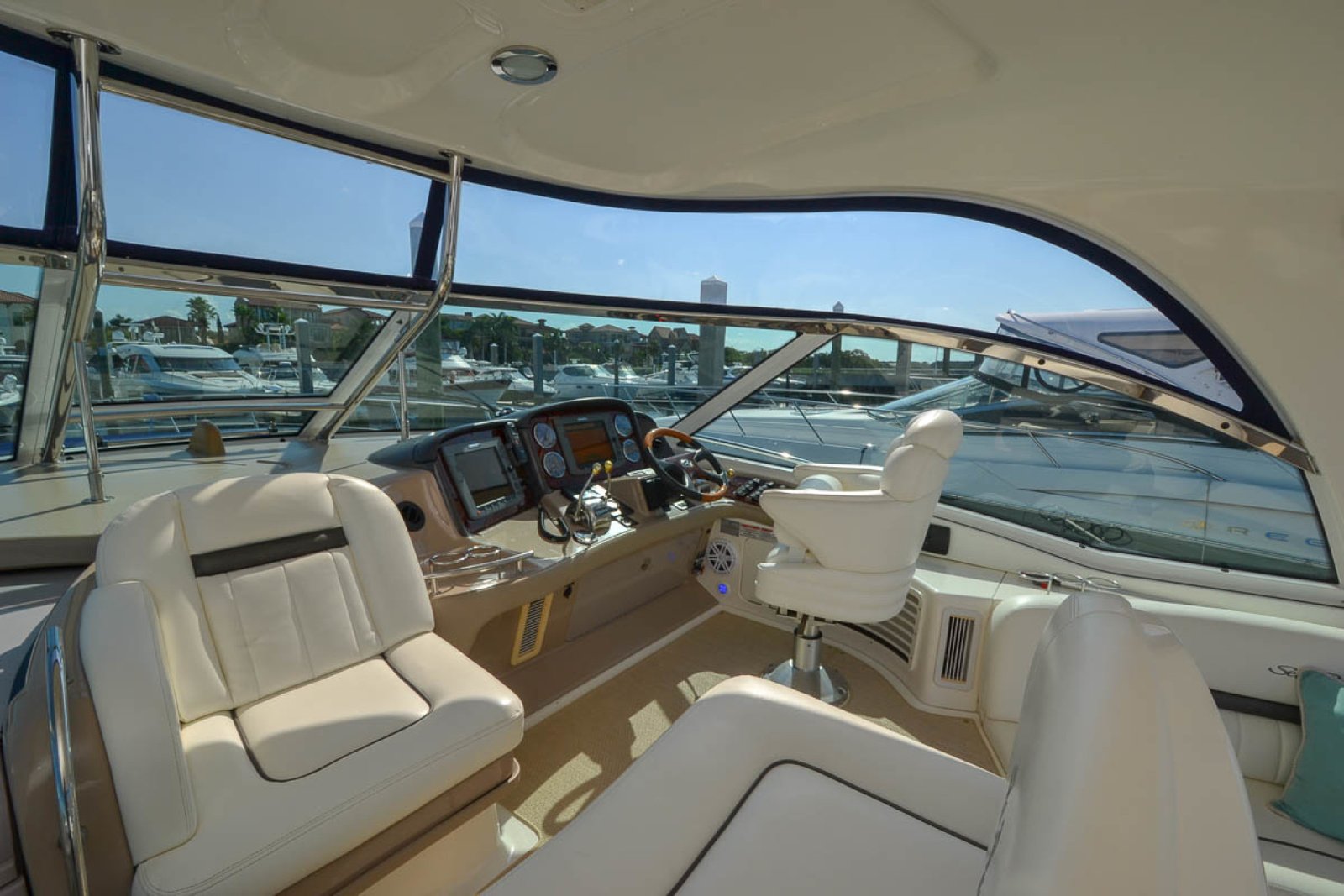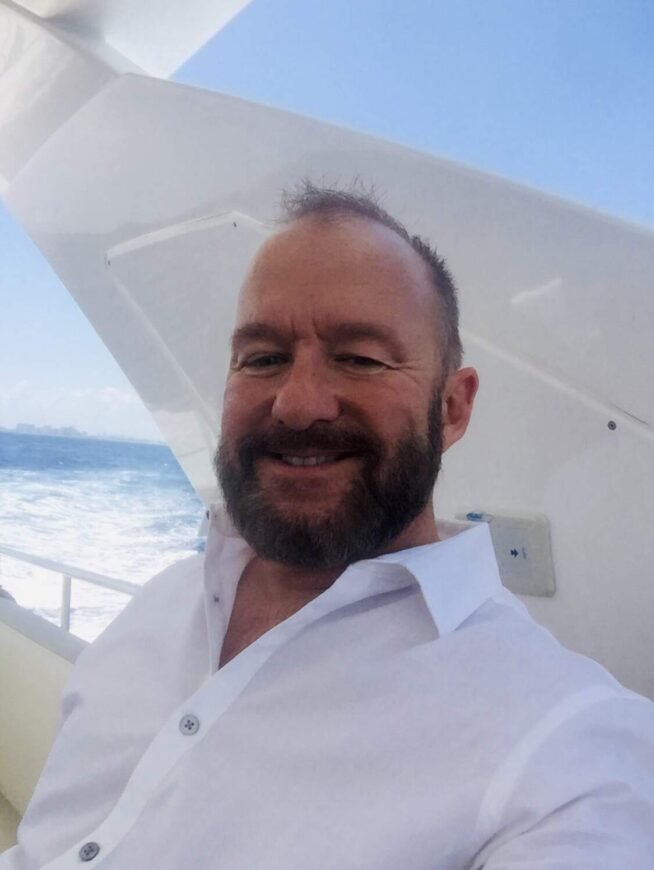 Jim Dempsey
Jim is a hockey forward with the Cleveland Glaciers of the Hockey North American League: "We're old and slow, but we can't be stopped." Jim enjoys boating (of course) and is an avid motorcyclist who owns several classic sport bikes and a Harley Davidson. Jim is a new dad to a baby girl Elena Jane.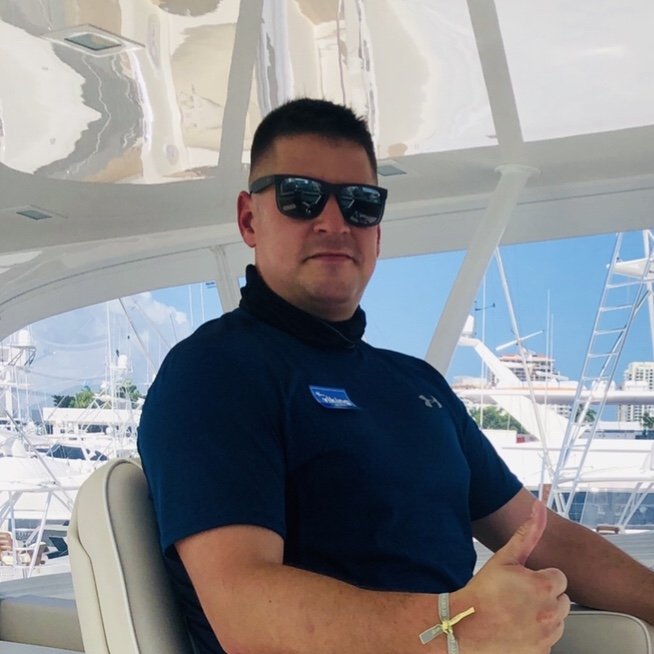 Jeff Kohn
A firefighter and EMT for over 20 years, Jeff is a hockey forward playing with the HNA Cleveland Piranhas. He enjoys riding his supercharged WaveRunner across the lake, doing burnouts in his special edition Daytona 392 and sunset dinners at The Boardwalk. Jeff is a father to two wonderful children.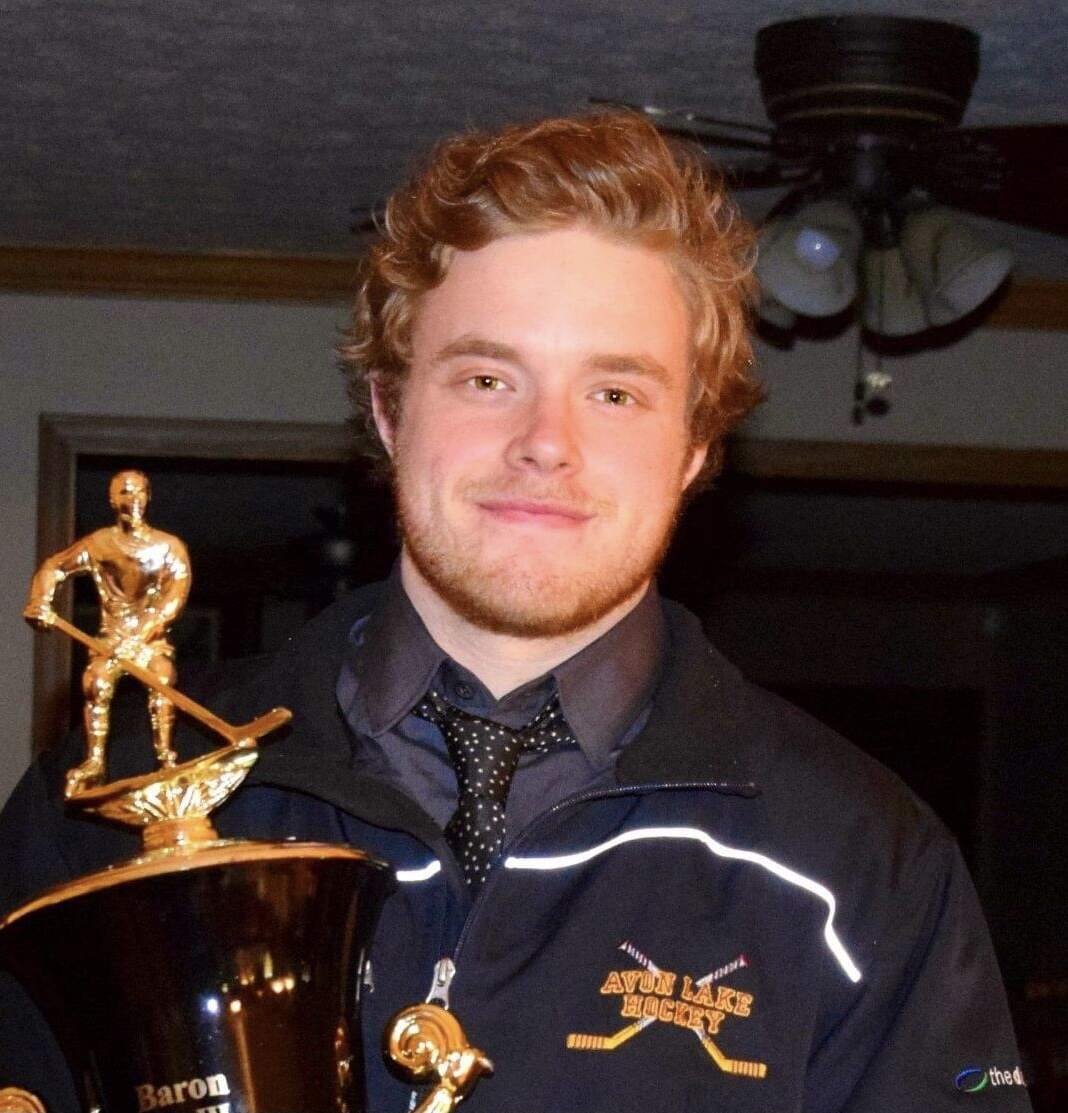 Sam Rose
A firefighter and EMT for over eight years, Sam loves being on Lake Erie experiencing what the islands have to offer. He is a former professional hockey player with the Mentor Ice Breakers. He's an avid Jeep enthusiast.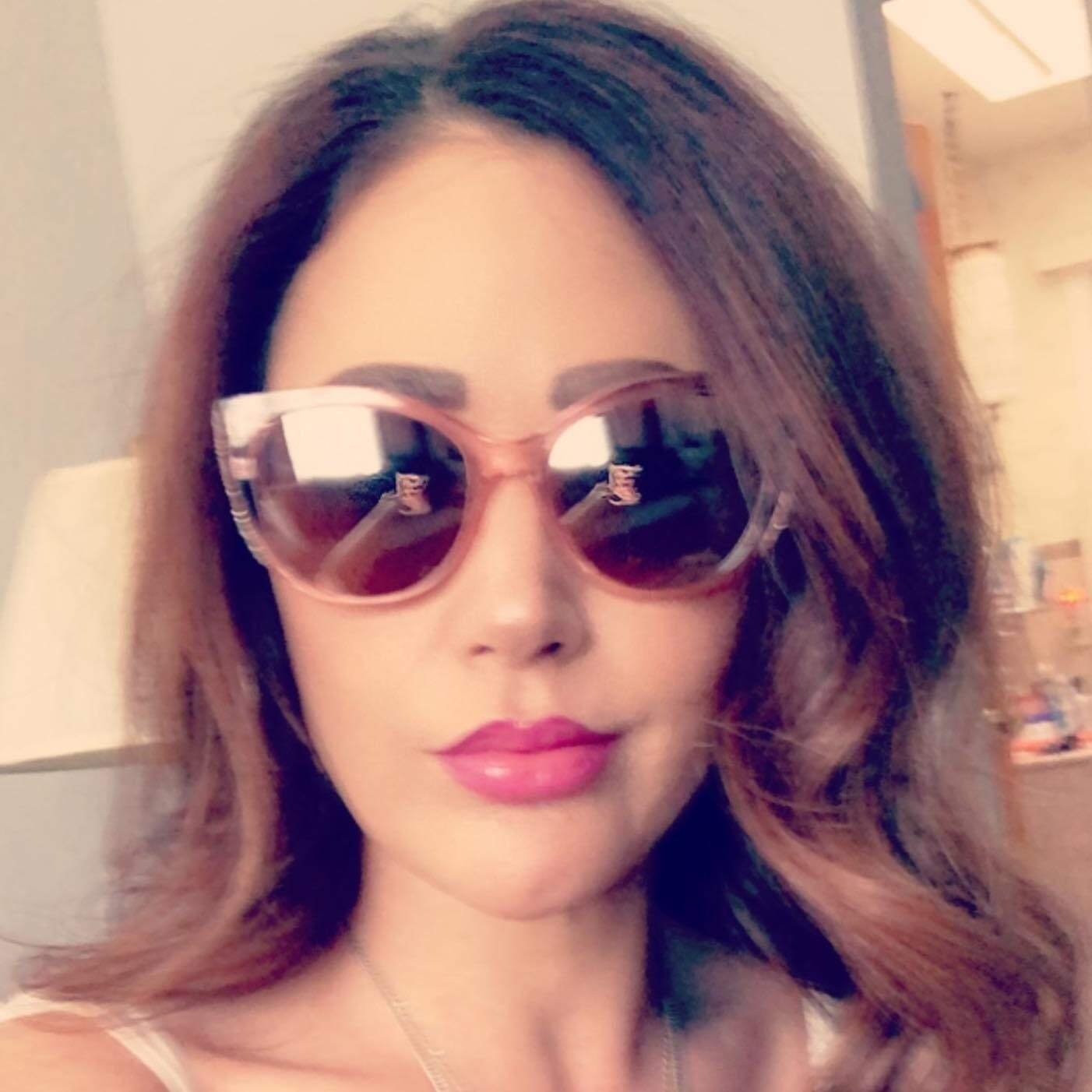 "Me and my Southwest Airlines crew booked a cruise aboard PowerPlay in August after a long summer of stressful flying with COVID restrictions. Captain Jim made our weekend with a wonderful, fun and relaxing cruise to the islands. We LUV Captain Jim and PowerPlay!"
— Courtney/Corporate outing to Put-in-Bay
"I hadn't seen most of my extended family in months and we chartered PowerPlay to Put-in-Bay, where we drove golf carts, visited the butterfly barn with the kids, Heinemans wine tasting, and an awesome dinner at The Boardwalk. The sunset cruise made my parents smile ear to ear!"
"PowerPlay made our wedding day! Mom chartered PowerPlay for a Sandusky Bay cruise and photos after ceremony and before reception. The wedding party loved it … we were able to cut loose to great playlists and our wedding photographer captured the most precious memories."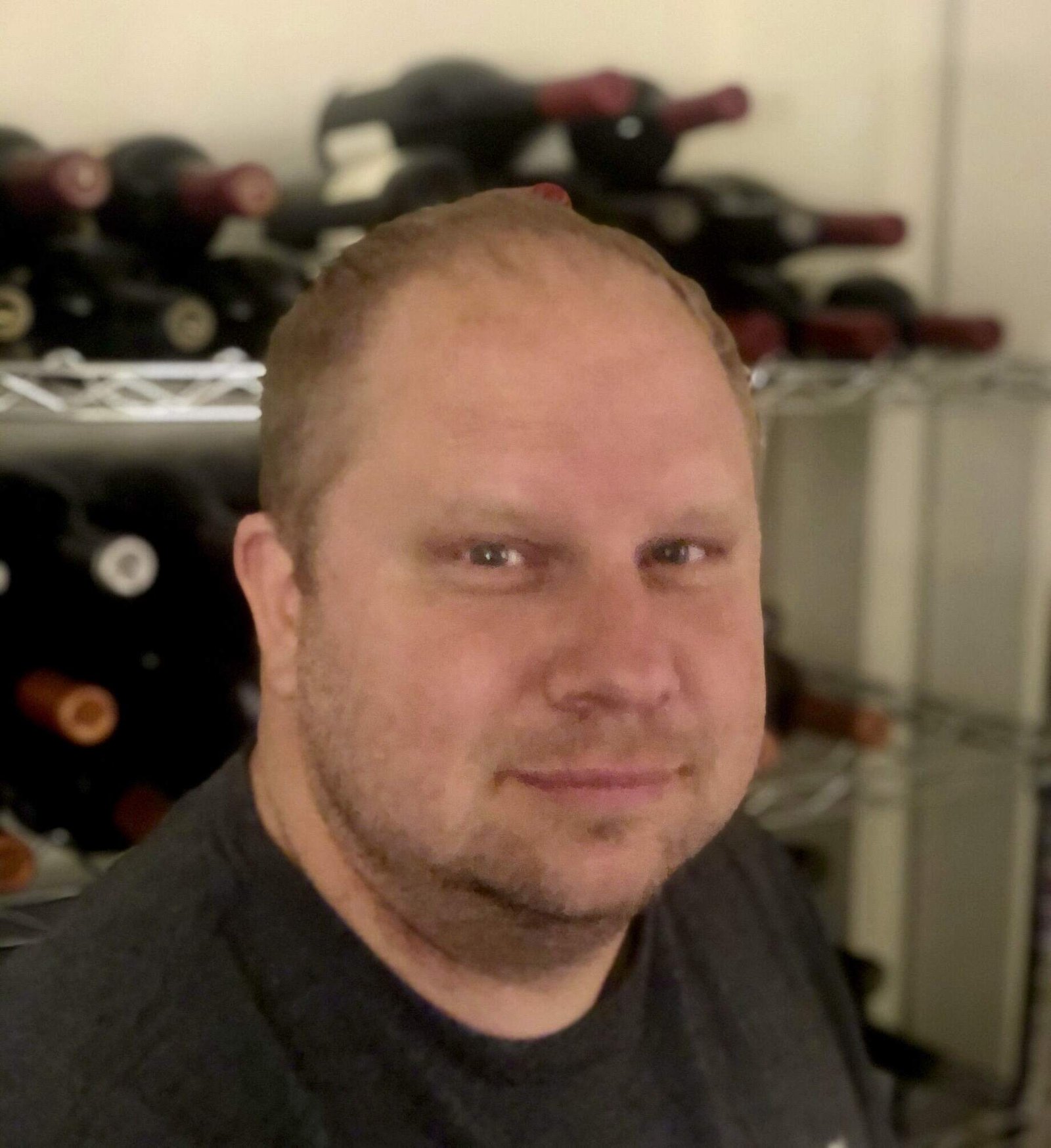 "My friends chartered the PowerPlay sport yacht for my entire bachelor party weekend. Captain Jim and First Mate Jeff expertly navigated seriously high seas across Lake Erie getting us to Windsor safely. Next day we cruised down Detroit River over to Put-in-Bay, where we had a blast. Amazing time!"
— Pinzy/Custom trip to Windsor Canada and PIB