Best Bachelorette or Girls' Weekend on Lake Erie Islands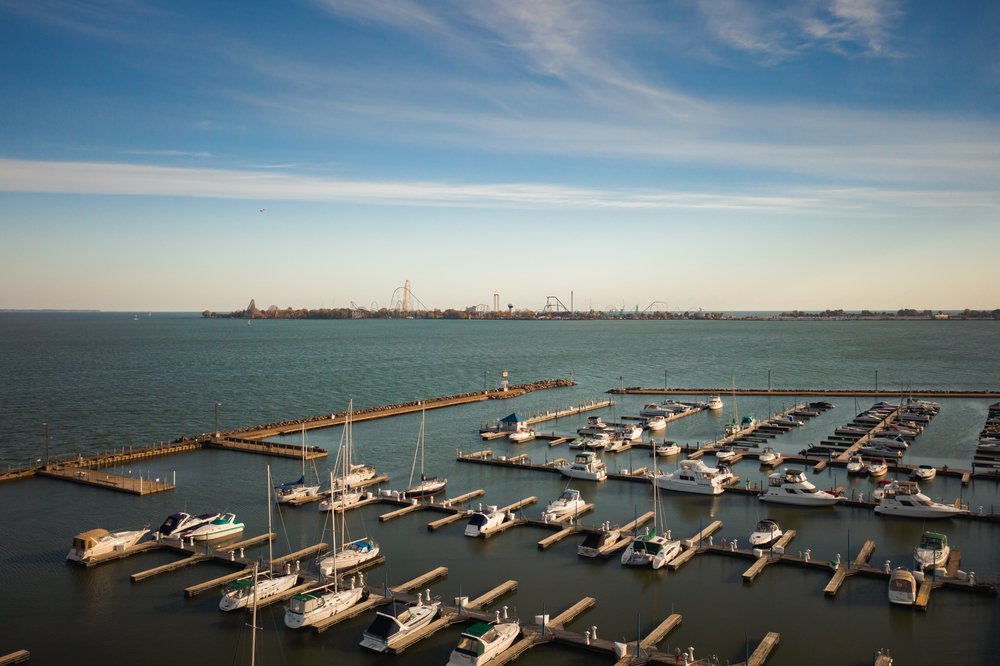 If you're looking for something fun and unique to do as part of a bachelorette party or girls' weekend this year, book a Lake Erie yacht cruise on the PowerPlay Charter and let the fun begin!
Based out of Son Rise Marina in Sandusky, Ohio, the PowerPlay offers a variety of yacht cruise options, including to Cedar Point, Put-in-Bay on South Bass Island or Kelleys Island. Daytime, afternoon and sunset BYOB cruises all offer plenty of time for socializing with your girlfriends, soaking up the sun, swimming in Lake Erie, and making memories you'll never forget.
To help you plan the perfect trip, here are three ideas to consider:
Sandusky Bay and Cedar Point — Cruising around Sandusky Bay with the rollercoasters of Cedar Point in the distance make for some picture-perfect moments. Bring beer, White Claws and Jell-O shots – and plenty of sunscreen – for a rockin' afternoon sun and swim cruise, or bring your favorite wine and cheese for a classy sunset cruise with your favorite girls.
Either way, you'll enjoy the beautiful scenery only Lake Erie can provide. For an extra fee, up to four adults can take the Zodiac Deluxe Dinghy out for a ride. (Be sure to hang onto your hats and sunglasses when the crew are running full throttle, else you risk losing them to a deep watery grave.)
After the cruise, extend the party with dinner at Zinc Brasserie or Small City Taphouse or Crush Wine Bar. Later start the bar hopping with Volstead Bar, Moseley's Public House & Rooftop Bar, Daly's Pub, Jax Bar, Shore House Tavern, Jimmy's Bar, Sail Inn, Jack Daniel's Barrel House, Dockside Café, Landmark Bar, Sound Bar at Lyman Harbor and then try to find The Cove at Louie's Bar & Nightclub. More than you thought right? There are plenty of hotels nearby to stay the night, including the historic Hotel Breakers at Cedar Point. And while you're here, round out the weekend at Cedar Point amusement park and Cedar Point Shores waterpark and beach.
Kelleys Island – Board the PowerPlay at Son Rise Marina and enjoy a leisurely cruise to Kelleys Island, where you'll find plenty of options to enjoy whether you're just staying for the afternoon or the entire weekend. The downtown business area is easily walkable from the docks, where you can dine at Captain's Corner Bar and Grill or several other restaurants, browse shops or play miniature golf. For a special treat, be sure to try the famous Strawberry Shots (hollowed-out strawberries filled with liquor and whipped cream) available at Peeper's restaurant and bar and Brandy Alexanders at The Village Pump. Other options include the Kelleys Island Brewery, the Kelleys Island Wine Co. and Crooked Tree Vineyard.
If you'd prefer to explore the rest of the island, golf carts can be rented by the hour or for 24 hours, and it's definitely worth the money and quite reasonable if splitting the costs among four or six passengers per golf cart. Bike rentals are also available. Be sure to check out the Glacial Grooves, a rare geological phenomenon that attracts visitors from around the world. They were created by the slow movement of the massive glacier that created the Great Lakes and Lake Erie Islands! Be sure to enjoy the best sunset views on the west end of the island at the West Bay Inn Restaurant and Tiki Hut while playing giant Jenga on the patio.
Put-in-Bay on South Bass Island — Start your party on the PowerPlay Yacht Charter, and finish it at the wide variety of bars, restaurants and nightlife offered on Put-in-Bay. Rent a golf cart, scooters or bikes to explore the island, where you'll have the opportunity to ride a vintage carousel horse, chicken or pig on Kimberly's Carousel that dates back to 1917. Or spend the afternoon tasting wines at the Put-In-Bay Winery or Heineman Winery.
In the evening, belly up to the world's longest bar at the Beer Barrel Saloon or wander over to the Frosty Bar or The Round House Bar in downtown Put-in-Bay and enjoy live music and dancing. Or enjoy the best lobster bisque at the Upper Deck located above the Boardwalk seafood restaurant. While there be sure to visit Rita's Cantina for great margaritas or seek out a Pussers Painkiller at the rum bar. 
Mojito Bay is perfect spot to listen to live music with the sand between your toes! Fishbowl is great stop for their world-famous shark-shots. Did I mention the best kept secret? There are more than five swim-up pool bars on the island. Daytime entertainment at its finest with live DJs, volleyball at the Sandbar and one of my favorites, the Buckeye Tiki Bar. Be sure to try the sloppy joes at Joes Bar on southside of the island.
Visit putinbay.com or call the reservation center at 216-898-9951 ahead of time to book your overnight lodging on Put-in-Bay, where you'll find hotels, cute bed & breakfasts and home rentals. Or, if you don't plan to spend the night on the island, make sure you check the schedule for Miller's Ferry and catch the last ferry headed back to the mainland or the JetExpress, which has downtown pickup and runs later on summer weekends.
No matter which choice you make, you can't go wrong with a PowerPlay Yacht Charters for a bachelorette party or well-deserved weekend getaway with your girlfriends!
— By Eileen Scahill