PowerPlay Yacht Charters Prepares for Upcoming 2022 Season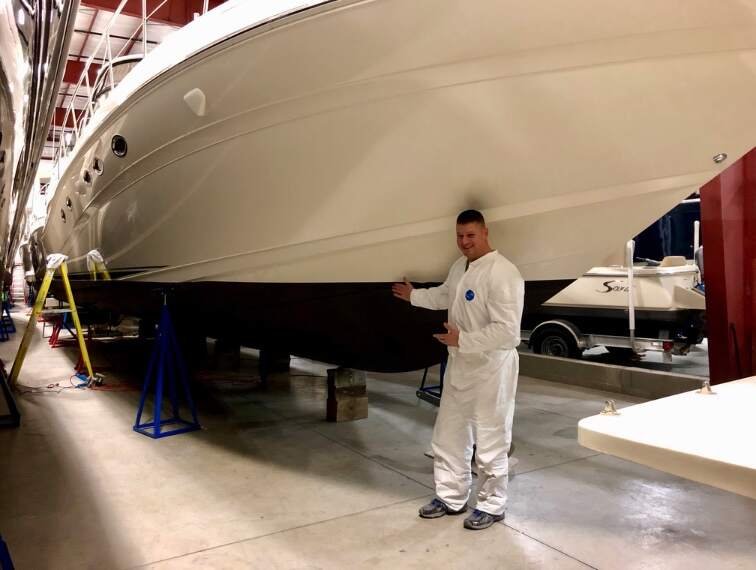 PowerPlay Yacht Charters is busy preparing for a fun and successful upcoming spring, summer and fall yachting season. To provide a safe and fun yacht experience, the crew goes through a rigorous checklist preparing the vessel both inside and outside. 
Inside work includes ensuring all mechanical and electrical systems are fully functional and properly maintained. Diesel engines are examined by an expert diesel mechanic,  ensuring engine oil, oil filters, engine fuel filters, Racors, and transmission fluid are changed on appropriate maintenance intervals. Did you know each engine requires 11 gallons of oil each to operate? Fresh water systems are sanitized along with water filter replacement. Heads are serviced including the vent filter. The staterooms, salon and cockpit are thoroughly cleaned and sanitized. That includes all seating, flooring, carpets and runners.
Outside the PowerPlay yacht,  our crew inspects the running gear: propellers, rudders, driveshafts, struts and cutlass bearings. Ablative paint is applied to the bottom of the boat to prevent marine growth. The crew completes a multi-step process cleaning the hull and decks — buffing, then waxing to ensure a super shiny durable finish. Windshield and Strataglass are polished for clarity.
 Finally, the cases of champagne are ordered to help you celebrate your special occasion. Cheers from the Captain & Crew of the PowerPlay!
By Captain Jim Dempsey